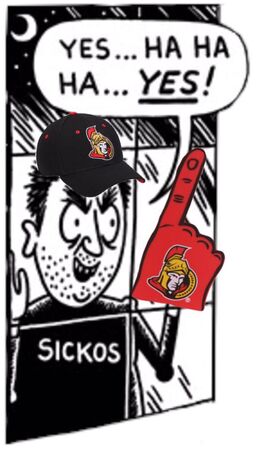 The Sens Sicko takes pleasure in your team's failures. The graphic, often spammed on Twitter and other social media platforms, was originally created by Twitter user @brochenski on Snapchat on his lunch break. It was meant to represent Sens Twitter cheering for all the other basement teams to win their games to improve Ottawa's draft lottery odds, and at the same time revelling in the Leafs' slowly-spiraling playoff hopes.
These days, the Sens Sicko takes on many meanings. For some, the sicko represents all the fans who take pleasure in the Sens' gritty, relentless, endlessly energetic style of play. For others, it is a nihilistic, Joker-like character who recognizes that they cheer for a dysfunctional, small market, underdog team. They recognize the team and organization possess many flaws and failures, and has come to terms with it. They are allowed to poke fun at the Sens, but beware any other fanbase that attempts the same! The Sicko generally enjoys anything that happens in the hockey world that seems to benefit the Senators unfairly, such as drafting twice in the top 5 in the 2020 Draft; coming back from a 5-1 deficit and beating the Leafs; having a Habs GWG in the last 2 seconds of play be disallowed; or Claude Julien being fired immediately after losing to the Sens twice. The graphic also exists in a 2D logo form, to represent the 2020 retro-inspired rebrand.
The Sens Sicko Anthem was created by James Mellish and shared on Twitter on February 23, 2021, in response to the Sens coming back from a 5-1 deficit to beat the Leafs 6-5 in OT.
The original Sickos cartoon was developed by The Onion. In the original, the sicko is taking pleasure in a nuclear family and the Statue of Liberty reacting to the legalization of drugs.
Sens Sickos should not be confused with the 2004 Flu Game between Ottawa and Toronto.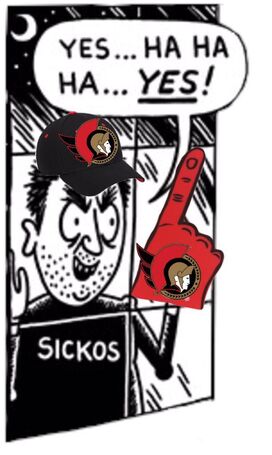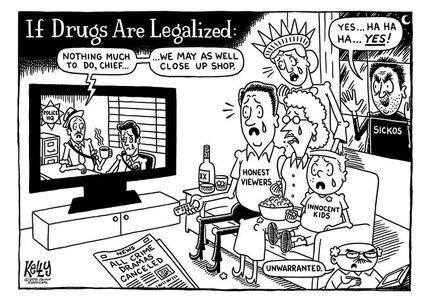 Community content is available under
CC-BY-SA
unless otherwise noted.